When the deputy arrived, the neighbors said some people had argued next door, where the deputy found Gloria Watkins dead and Watkins wielding a large knife, according to the arrest report. Watkins put down the knife but officers had to use a stun gun after he resisted handcuffing, the report said.

Watkins pointed to his mother and said, "You see that, that's death," the arrest report stated. Watkins said he killed his mother because she was going to kill him first, that he shot her in the head three times, stabbed her with a knife and shot her with a bow and arrow, the report said.

Watkins also said he killed his mother because she stole his diamonds and gave his father cancer, according to the report.
Florida man killed mother using gun, bow and arrows: police. Reuters/The Raw Story, 11/30/2014.
Authorities in Pinal County say 65-year-old Ronna Thomas died and her 63-year-old sister was injured after Thomas' son, 38-year-old Joseph Cecil, attacked both women with a knife.

Pinal County Sheriff spokesman Tim Gaffney said Cecil only stopped his brutal attack when a neighbor intervened, hitting Cecil with a shovel to subdue him.

Gaffney said sheriff deputies arrived at the 1800 block of west Camino Grande at about 6 p.m. to find a blood-covered woman in the front yard and Cecil lying on the ground with a man standing over him with a shovel.

…Sheriff Paul Babeu stated, "Had it not been for the intervention of the neighbor who stopped the attack, we would have undoubtedly had another homicide victim."

Babeu added, "When homicide detectives asked Joseph Cecil why he stabbed the two victims, he told them, 'God told me to do it.'"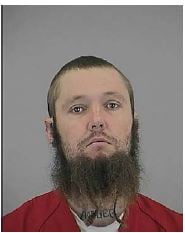 Rusty says, Watch out for men with neck tattoos.
PCSO: Man says God told him to kill mother. CBS 5, 10/5/2013.