Charges against Tyler Kost of San Tan Valley include multiple counts of sexual assault with a minor, sexual abuse with a minor and sexual conduct with a minor. He also faces one count of child molestation.

Pinal County Attorney Lando Voyles said the victims in the crimes alleged in the indictment issued Wednesday ranged from 12 to 17 years old.

Voyles said the offenses occurred between October 2009 and April 2014.

Kost was born in January 1996 so he was 13 when the first offense allegedly occurred. But Voyles plans to try him as an adult on all charges.

"In Arizona, once an individual turns 18, we don't have a choice," Voyles said. "(State law) makes it fairly clear."
Wait—would you not want to charge him as an adult for these very not-child-like crimes? Serial crimes? And harassment?
…Kost would face between 147 and nearly 334 years in prison if convicted of all the charges in the indictment, the prosecutor said.

Pinal County sheriff's deputies arrested Kost last week, accusing him of being a serial sex predator who assaulted at least 18 students. Voyles said he could not comment on why the indictment accused Kost of crimes involving only 11 victims.

According to the indictment, none of the alleged sexual assaults occurred on a school campus. Kost is accused of sexually abusing the victims in his bedroom, in a parked car, a park and out in the desert.

…In addition to calling Kost a sexual predator, Pinal County Sheriff Paul Babeu last week said Kost threatened and harassed victims to such an extent that two fled the state, and one attempted suicide.

"This is a serious and serial sex offender and rapist," Babeu said.

The investigation was initiated after the Sheriff's Office received a call March 25 from someone reporting that Kost had sexually abused and molested five teenage girls.

Kost lives in San Tan Valley, a bedroom community of about 87,000 named for its location in the foothills of the San Tan Mountains. The area, about 45 miles southeast of Phoenix, is known for its golf courses and hiking trails.
Arizona Man Tyler Kost Charged In Alleged Sexual Assaults. HuffPo Crime, 5/8/2014.
Authorities in Pinal County say 65-year-old Ronna Thomas died and her 63-year-old sister was injured after Thomas' son, 38-year-old Joseph Cecil, attacked both women with a knife.

Pinal County Sheriff spokesman Tim Gaffney said Cecil only stopped his brutal attack when a neighbor intervened, hitting Cecil with a shovel to subdue him.

Gaffney said sheriff deputies arrived at the 1800 block of west Camino Grande at about 6 p.m. to find a blood-covered woman in the front yard and Cecil lying on the ground with a man standing over him with a shovel.

…Sheriff Paul Babeu stated, "Had it not been for the intervention of the neighbor who stopped the attack, we would have undoubtedly had another homicide victim."

Babeu added, "When homicide detectives asked Joseph Cecil why he stabbed the two victims, he told them, 'God told me to do it.'"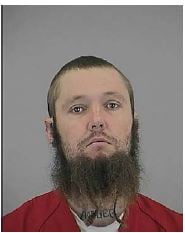 Rusty says, Watch out for men with neck tattoos.
PCSO: Man says God told him to kill mother. CBS 5, 10/5/2013.